Begin the top collar by placing the collar pattern on the grain, and chalking the outline. Add a two inch inlay to the top and bottom, and three inches to the sides. You have the option of placing the collar on the fold, or seaming the pieces together. In the case of seaming, you should add a 1⁄4 inch seam allowance, and stitch the pieces right sides together. In my case, I chose to cut the collar in one piece.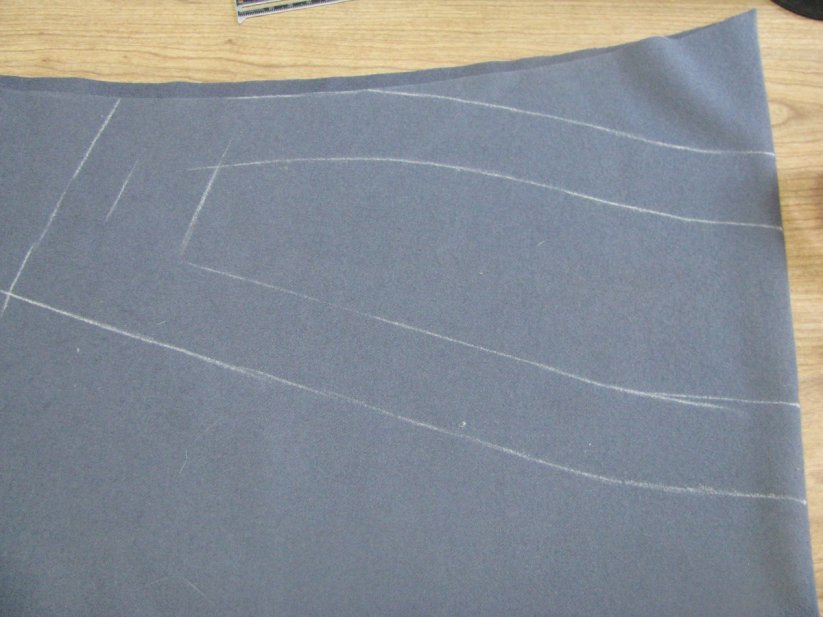 Stretch the top and bottom of the top collar with the iron. This will help the collar lay more smoothly on the finished coat.
Lay the top collar right side down on the table, and place the coat in position on top. Use the chalk marks as a rough guide in getting the proper alignment.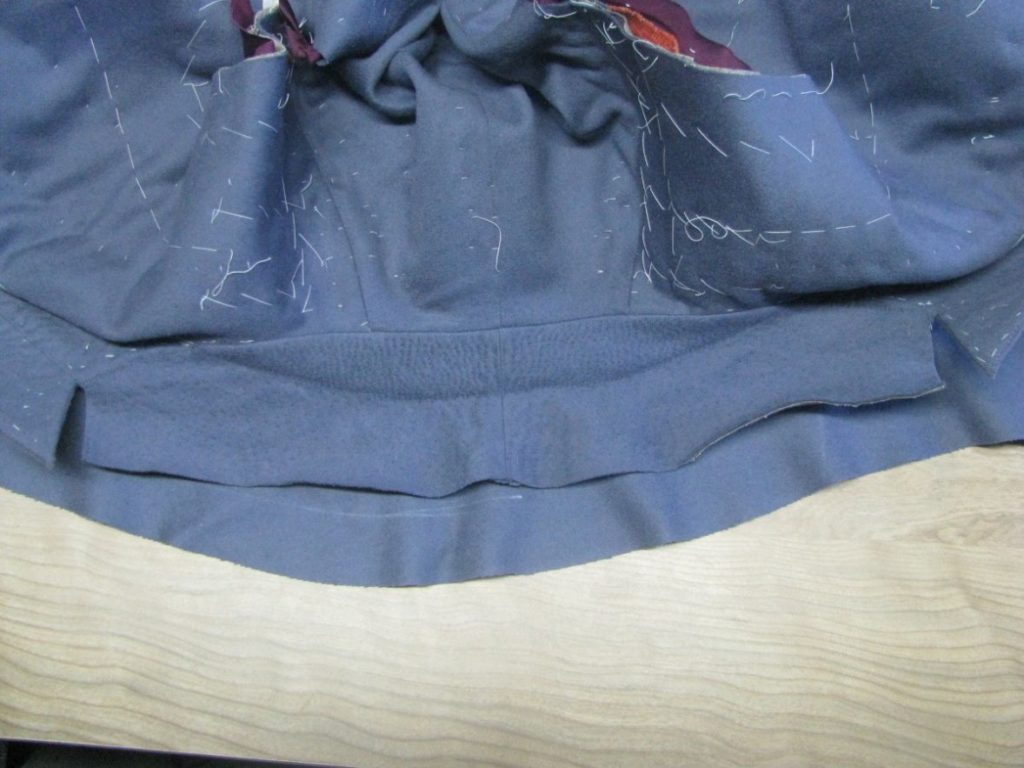 Baste from one edge of the collar, about one inch from the edge until you meet the roll line. Continue basting along the roll line until you reach the far edge of the collar.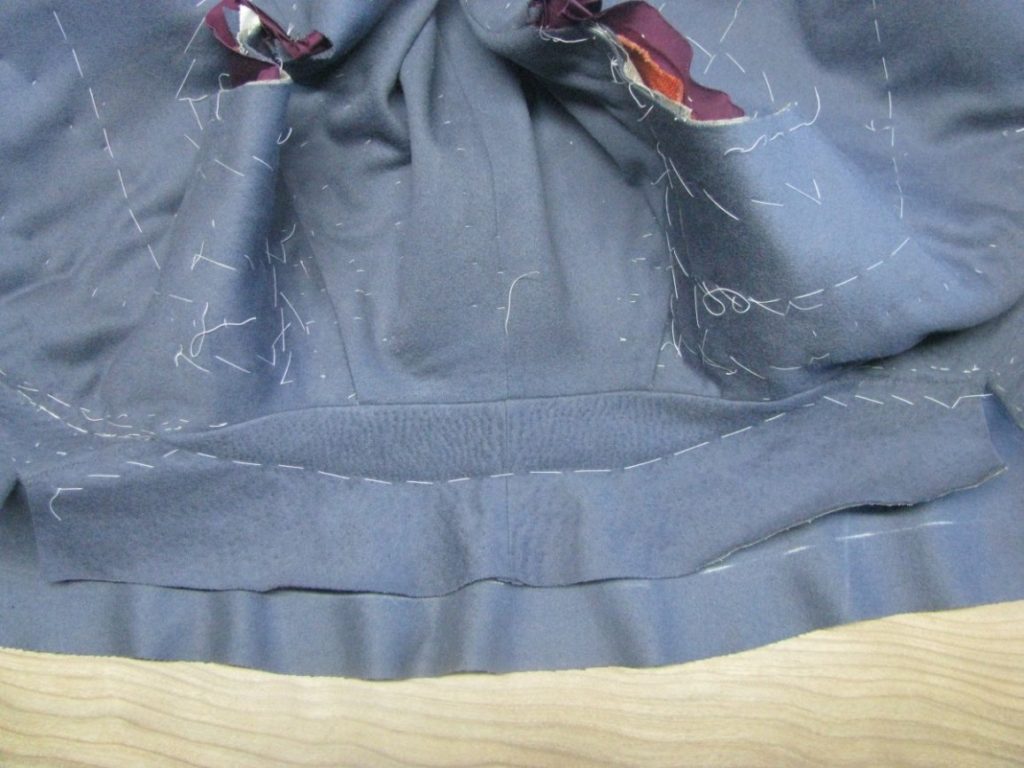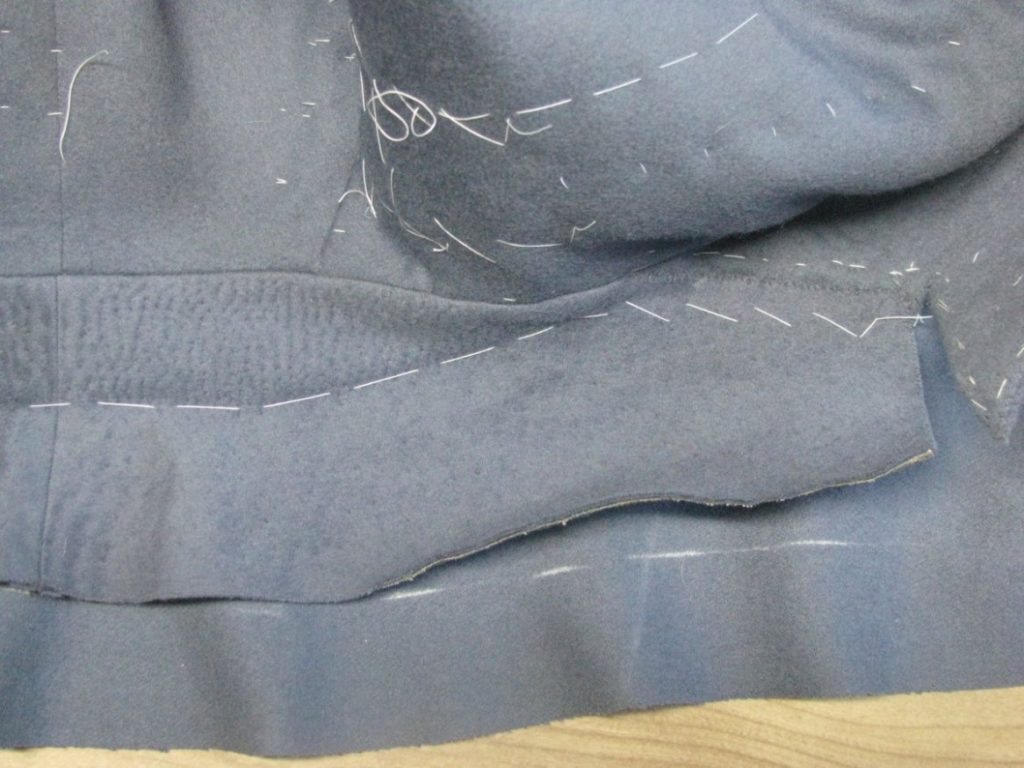 At the top edge of the collar, about one inch from the edge, baste the top collar to the under collar, making sure there are no ripples in the fabric underneath. Use your fingers to determine this.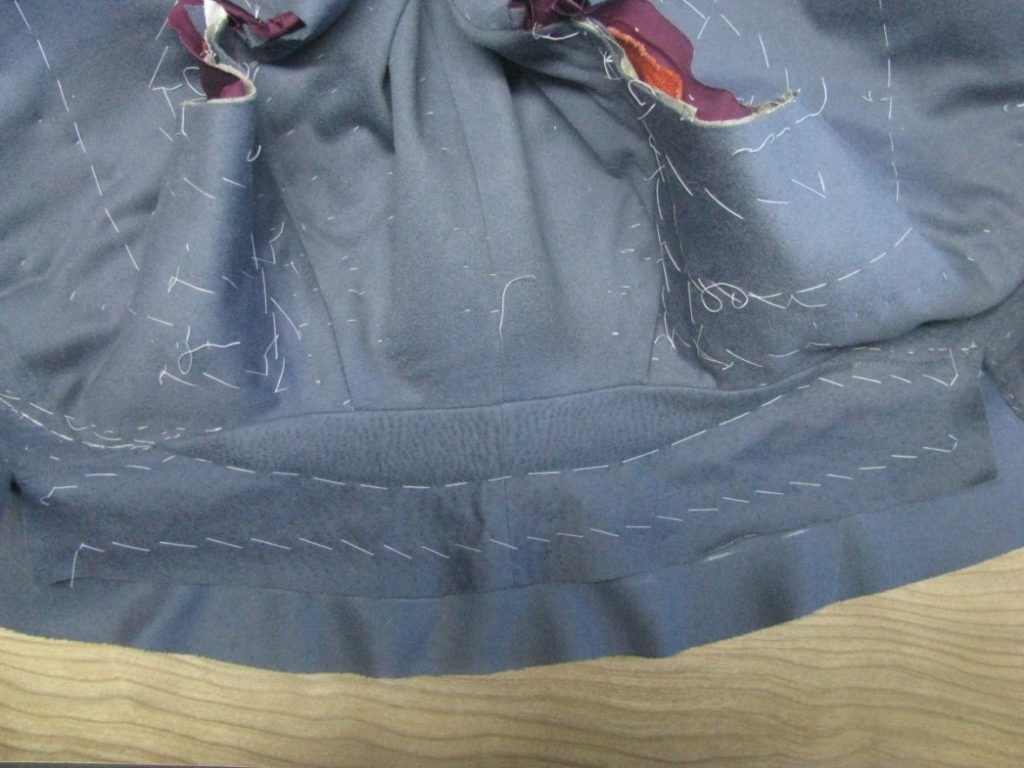 Carefully trim the collar ends to one inch, and the top edge to 3/8 of an inch.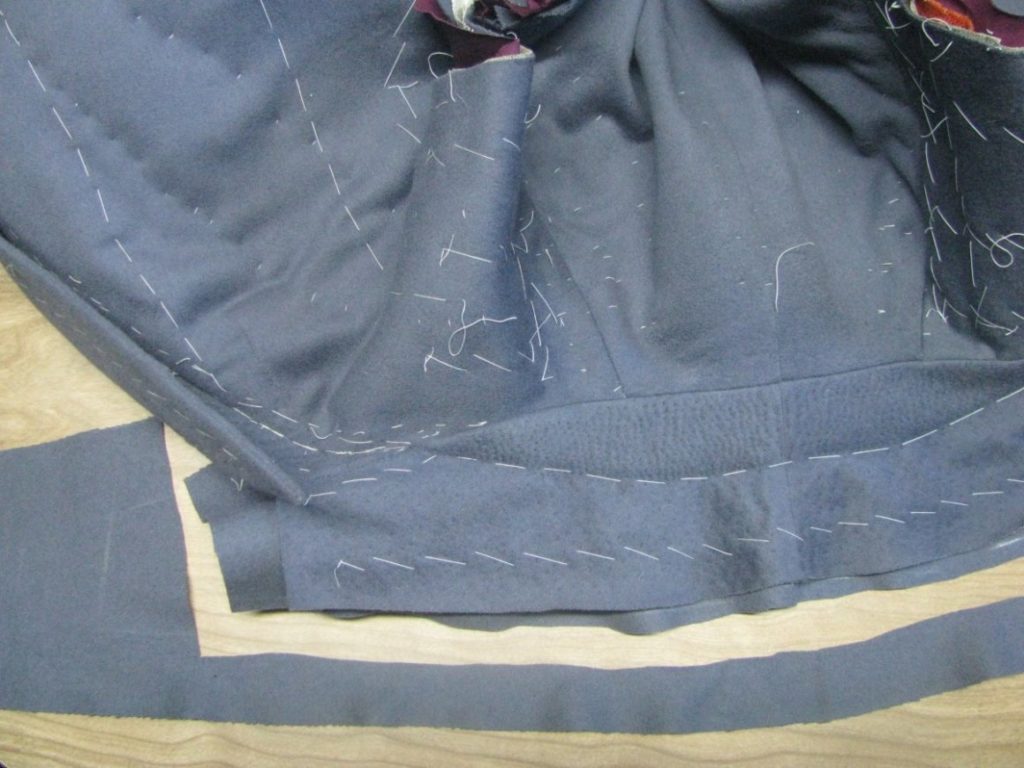 Fold the edge of the top collar beneath the under collar, and baste. There should be 1/16" of fabric showing beyond the raw edge of the under collar, so that it will not be visible when completed.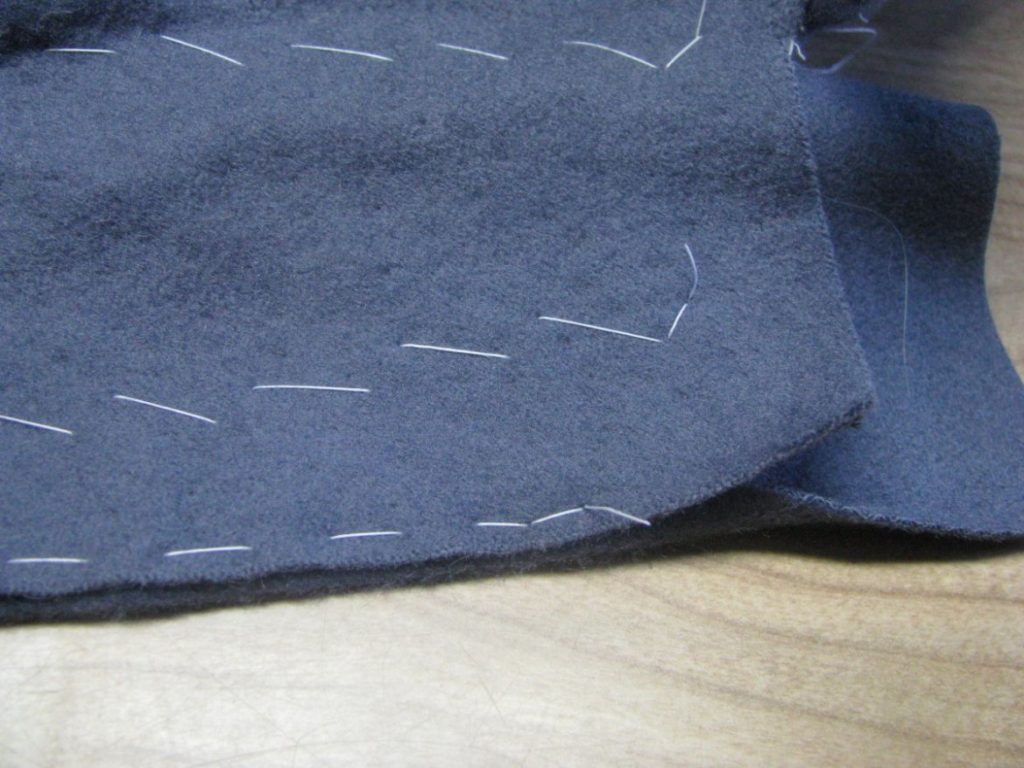 This photo shows the collar so far. Next we'll secure the stand side of the collar.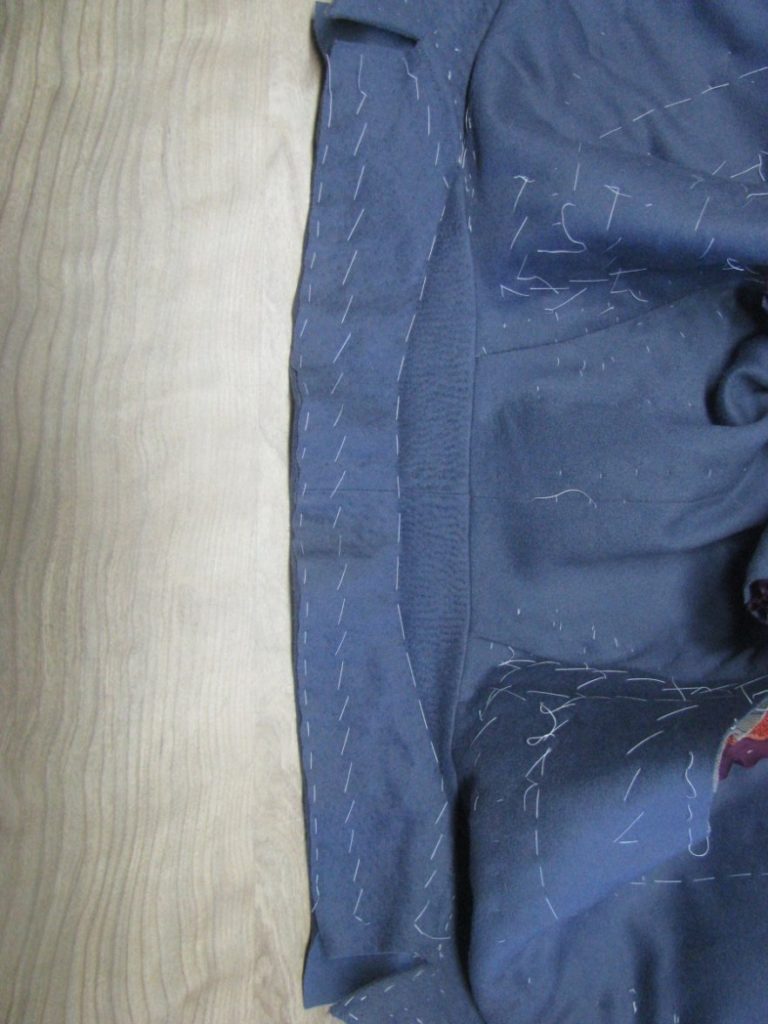 Trim both ends of the collar to 3/8 of an inch.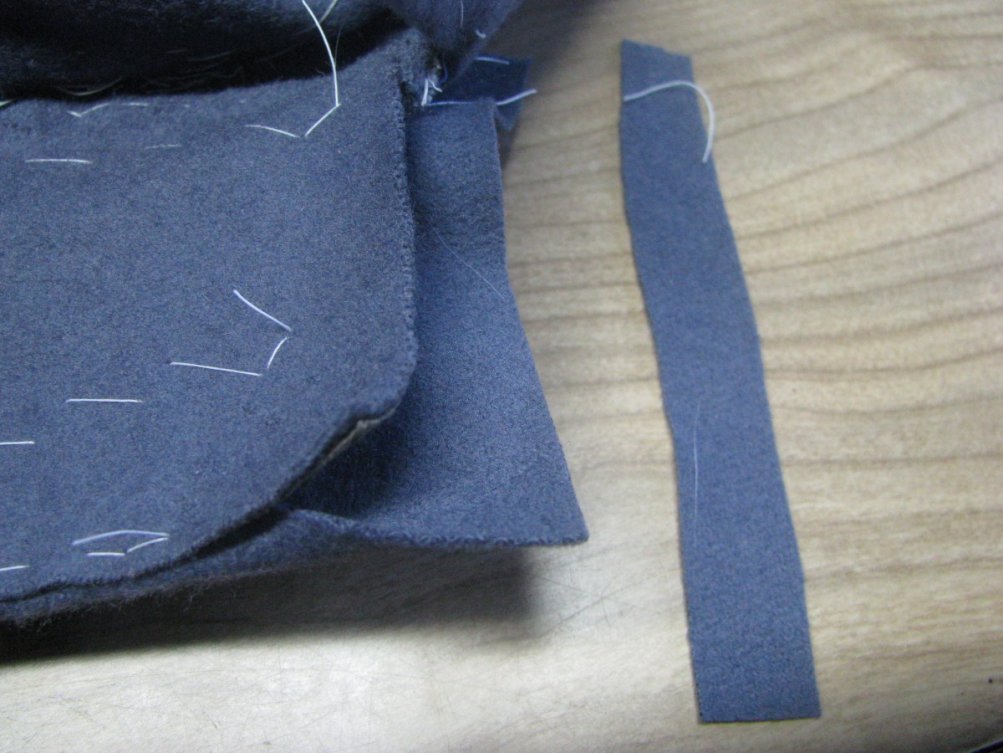 Baste the ends under in the same manner as the top of the collar, making a nice fold at the corner.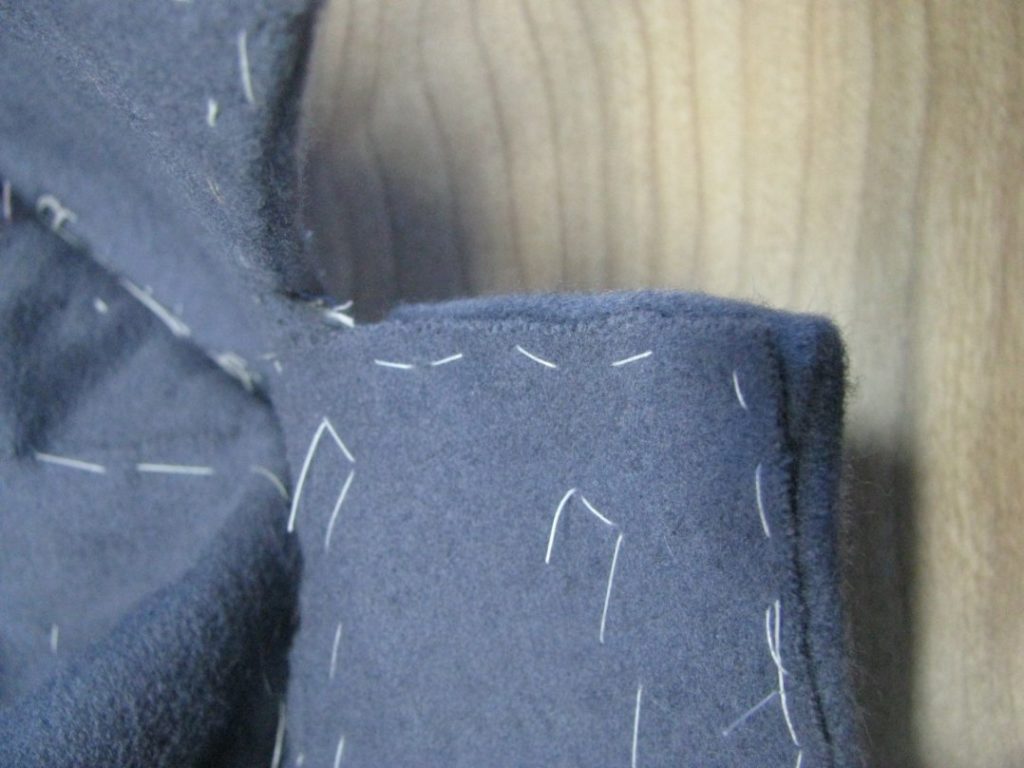 On the bottom edge of the top collar, near the gorge line, measure a half an inch seam allowance from the edge of the collar. Trim carefully.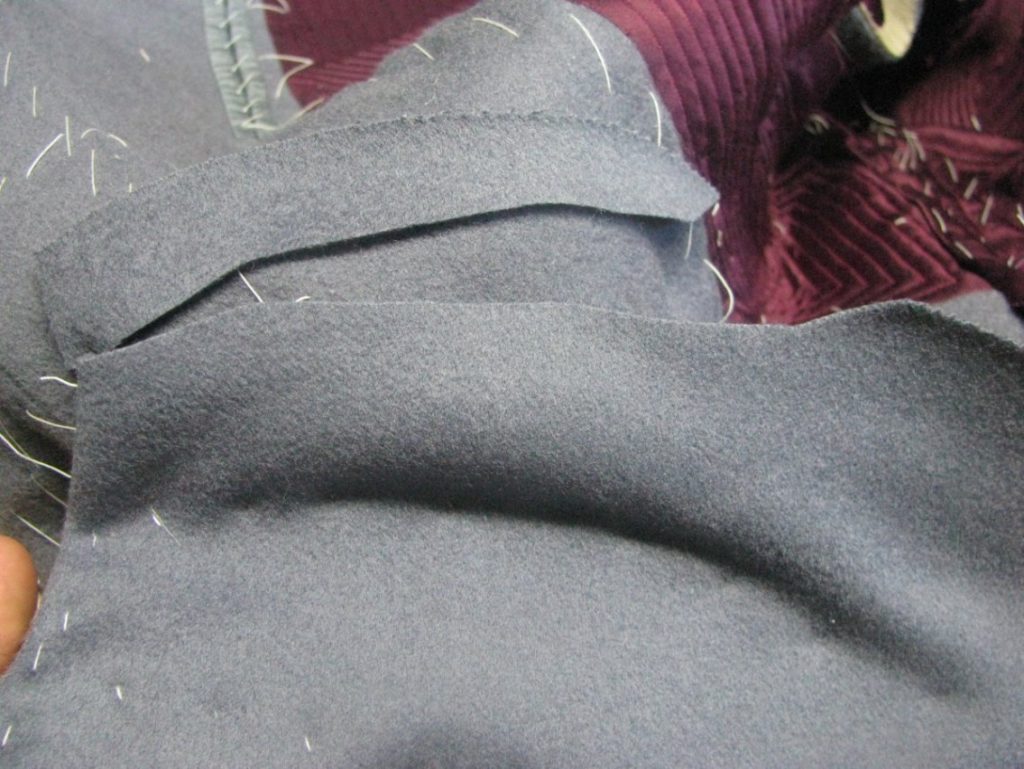 Fold under the fabric and baste along the gorge line. Ideally there will be no pulling or ripples. I ended up going back and redoing this section.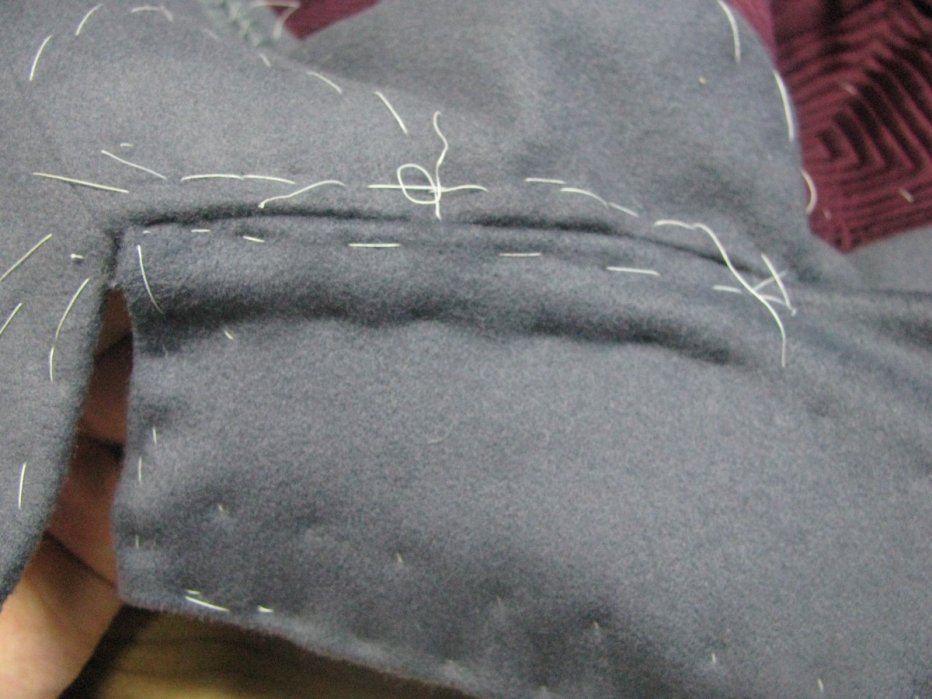 From the gorge line to the point of the collar just before it meets the end of the facing, fold and baste under the fabric.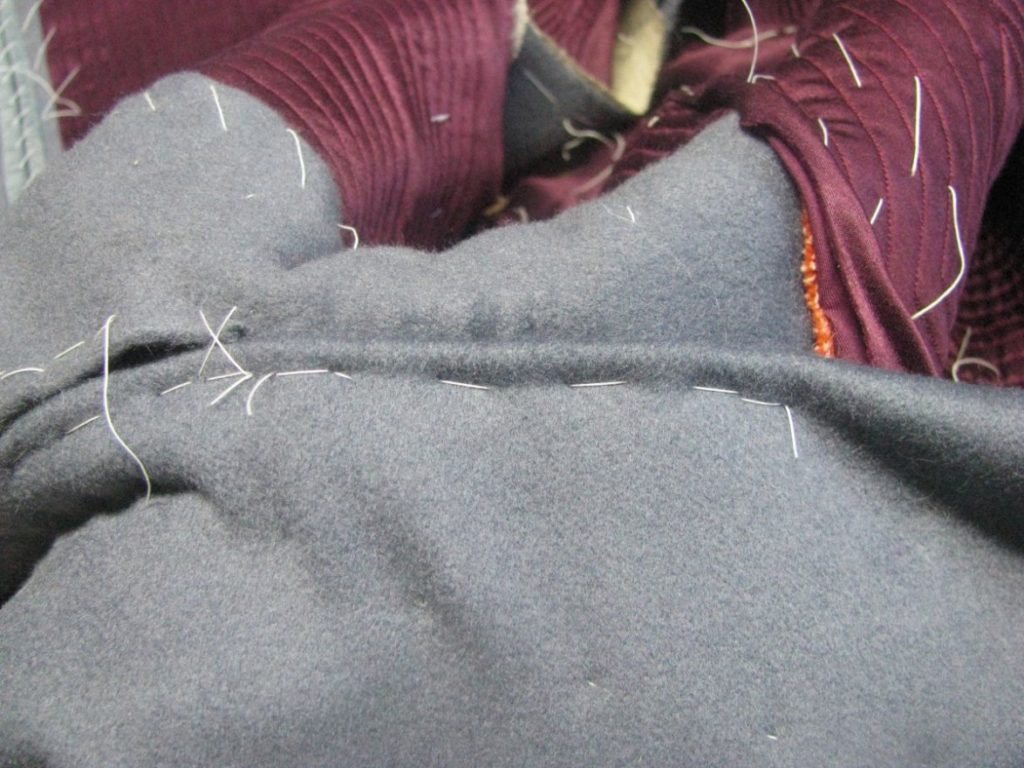 Here's what the collar should look like. Note the back section has not been basted down yet.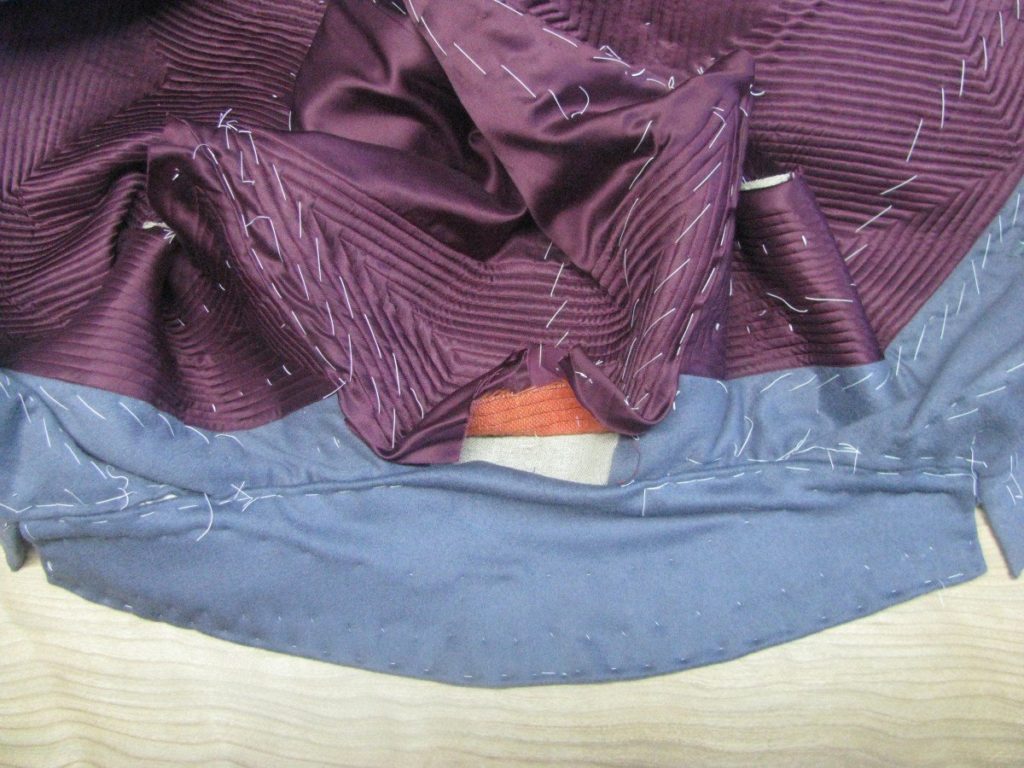 Turn the coat lining side down again, and baste the stand of the collar from one end to the other.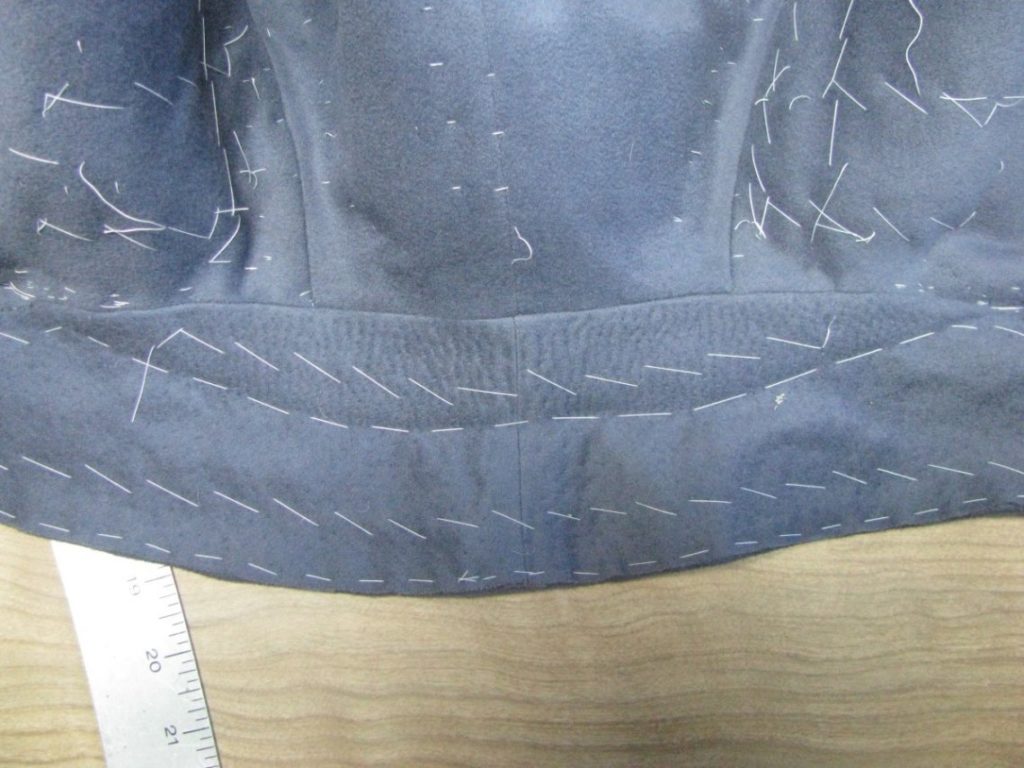 At the back, carefully slash the top collar so that it may smoothly fit around the curvature of the neck. Don't slash too far, however. Next, using a pad-type basting stitch and silk thread, baste the top collar to the collar seam below it. These stitches are permanent, so don't let them show through to the right side.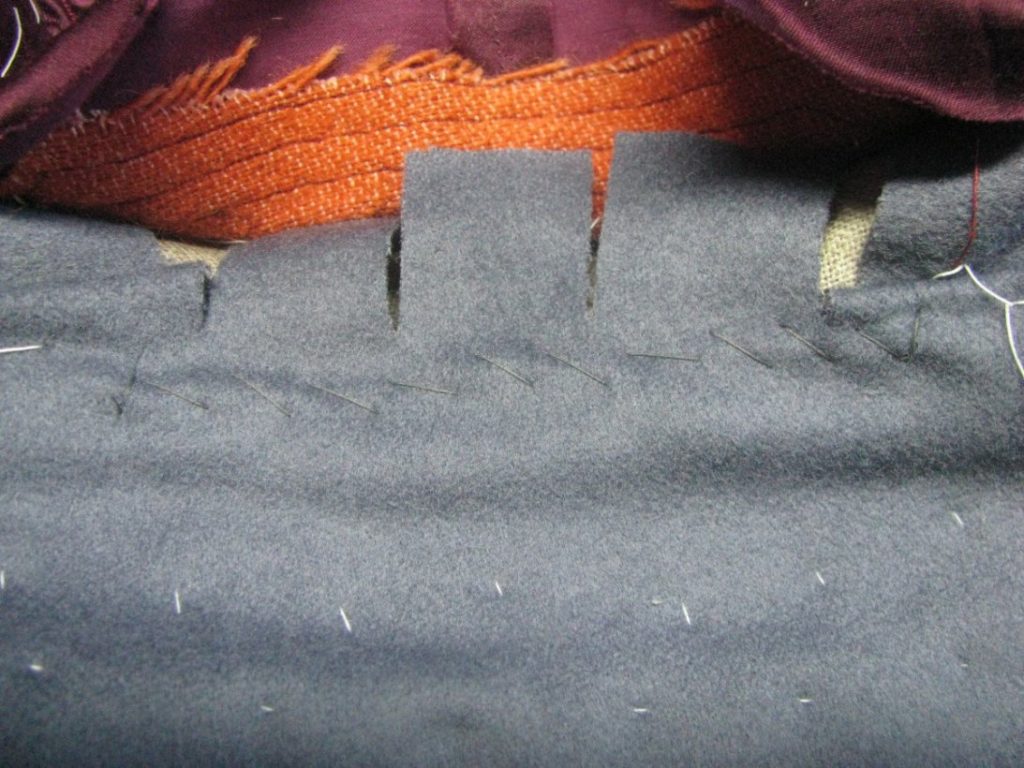 ---
Your Progress
| | | |
| --- | --- | --- |
| 1 | Baste on the top collar. | |